In a world where dating apps have become an integral part of modern romance, Bumble stands out as a game-changer. Founded in 2014 by Whitney Wolfe Herd, it has since transformed the way people approach online dating. With its unique features and a focus on empowering women, Bumble has gained immense popularity worldwide. In this article, we'll delve deep into the world of Bumble, exploring its history, key features, impact on dating culture, and its future prospects.
The Birth of Bumble
Before diving into the details of Bumble, it's crucial to understand its origin. Whitney Wolfe Herd, a co-founder of the popular dating app Tinder, left the company amidst controversy and founded Bumble with a vision of creating a dating app that puts women in control. She wanted to tackle issues like online harassment and gender inequality that often plague the world of online dating.
How Bumble Works
At its core, b that works on a simple and empowering premise: "Women make the first move." Here's a breakdown of how Bumble operates:
Registration: Users sign up with their Facebook or phone number and create a profile with photos and a short bio.
Matching: Bumble uses a swiping mechanism similar to Tinder. Users swipe right to like someone and left to pass. If both users swipe right on each other, it's a match.
Messaging: Here's where Bumble distinguishes itself. After a match is made, only women have the power to initiate the conversation within 24 hours. Men cannot send the first message. This feature empowers women to take the lead in conversations and reduces the likelihood of unsolicited messages.
Extensions: If both parties don't initiate a conversation within 24 hours, the match expires. However, there is an option to extend the match for an additional 24 hours, allowing more time for a connection to be established.
Additional Features: Bumble offers more than just dating. It has expanded to include features like Bumble BFF for making friends and Bumble Bizz for professional networking. These extensions make it a versatile platform for various social needs.
Empowering Women in Dating
One of the most notable aspects of Bumble is its commitment to empowering women. By giving them control over initiating conversations, Bumble addresses some of the longstanding issues women face on dating apps, such as unsolicited explicit messages and harassment. This approach has resonated with many women, making them feel more secure and comfortable in the online dating space.
Moreover, Bumble takes a strict stance against inappropriate behavior. Users can report any misconduct or harassment, leading to swift actions against the offenders. This proactive approach sets a new standard for online dating platforms, creating a safer and more respectful environment.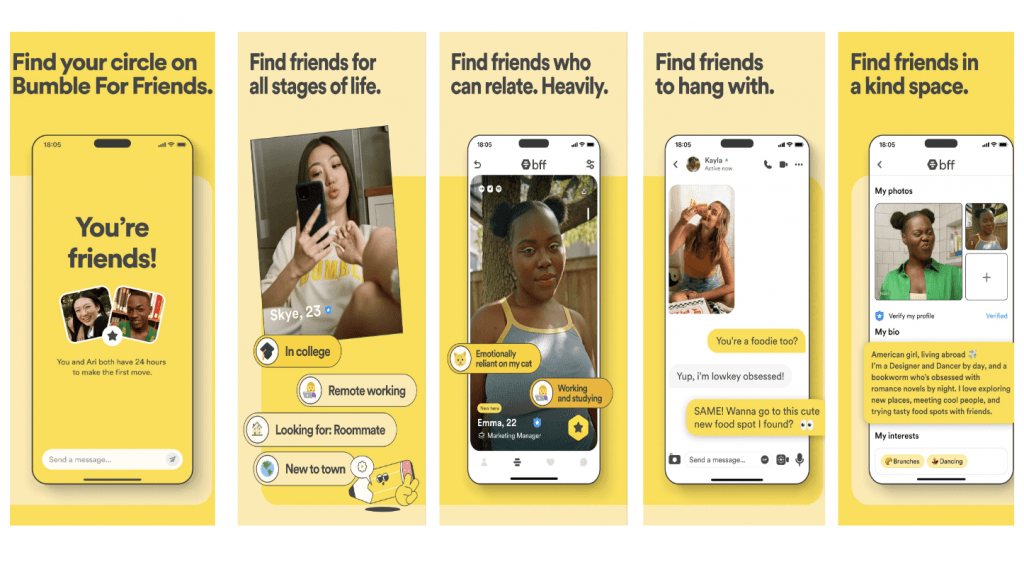 Bumble's Impact on Dating Culture
Bumble has had a significant impact on the dating culture, introducing several changes to the way people approach online dating:
Changing Gender Dynamics: Bumble's "women first" approach challenges traditional gender roles in dating. It encourages women to take the initiative and empowers them to be more assertive in their dating lives.
Reducing Harassment: By requiring women to make the first move, Bumble reduces the likelihood of unsolicited explicit messages and harassment. This shift has improved the overall experience for many users, especially women.
More Meaningful Connections: Bumble's focus on meaningful conversations rather than quick matches encourages users to engage in deeper discussions. This has led to more substantial connections and relationships.
Diverse User Base: Bumble's expansions into friendship and networking have attracted a diverse user base, making it a platform not only for romantic connections but also for finding friends and professional contacts.
Success Stories and Testimonials: Bumble has garnered numerous success stories from users who found love, friendship, or professional opportunities through the app. These stories highlight the app's ability to facilitate genuine connections and change people's lives for the better.
Bumble's Future Prospects
As of my last knowledge update in September 2021, Bumble was a rapidly growing company with a promising future. The app had expanded its offerings, and its user base continued to grow. Bumble's commitment to empowering women and fostering respectful online interactions positioned it well in a market that was evolving to prioritize safety and meaningful connections.
However, the landscape of dating apps is highly competitive and ever-changing. Bumble must continue to innovate, adapt to new trends, and address emerging challenges to maintain its position in the market. It's possible that since 2021, Bumble has introduced new features, partnerships, or initiatives to enhance the user experience and stay ahead of the curve.
In conclusion, Bumble has made a significant impact on the dating world by empowering women, promoting respectful interactions, and offering a platform for various social needs beyond dating. Its unique approach to online dating has resonated with millions of users worldwide, making it a formidable player in the industry. As Bumble continues to evolve and grow, it will likely play an essential role in shaping the future of online dating culture.